Latest Results

Reports - 2012-13

Phoenix vs Hurst Mens B
(captain's report)
Hurst B made a winning start to their Basingstoke Div 3 campaign with a hard won 7-2 victory. Debut pair Martyn and Peter won all three rubbers – some more comfortably than others with a thrilling 3 leg finale. Mike and Andy our only father and son pairing in the club made their debut and won one of their three matches. David S and Colin won their three rubbers without dropping a game, although all were within 2-6 point margins so a tough match nevertheless.


HCBC Handicapped Tournament, 18 July 2013
No match reports over the summer, but here's a special report for the fun tournament for club members (thanks Ian).
The handicapped tournament held on the club night of 18 July was well attended [and included a first time visitor, John, who turned up expecting it to be a normal club night]. The group stages were made up of 2 groups of 3 and 1 group of 4 with each pair playing everyone in their respective group. The winners and the single highest looser progressed to the final shoot out. That last place was hard fought as there were 2 pairs with equal scores who had to play a sudden death game to 7 points to progress. Of the 12 games played in the group stages 6 resulted in scores of 21-20 or 21-19. The overall winners were Andy E and John who beat Kevin S and Helen in a very close game 21-20 and walked away with a box of "Celebrations" and "Heroes" [I thought they would make appropriate prizes]. But congratulations to everyone who played and if you are lucky [unlucky] I may do it all again next year.


Match Secretaries Report 2012-13

To summarise it's been a successful season for Hurst teams this year: Winning promotion by coming top of Newbury Men's Division 2 and Newbury Mixed Division 3, staying up in Basingstoke Men's Division 1 and winning the Blackford Cup. Here is the
Match Secretaries Report
.
Hurst B vs Shaw C

Important win (6-3) in the final fixture of the season for the Mens B team. It was a good natured but hard fought match with several rubbers going to three ends.
Andy Elliott and Kevin.E secured a maximum 3 points.

Blackford Cup 2013 - Final, 2nd Leg
The team
won the Blackford cup
last night and were presented with it by the Newbury league chairman. Well done to all who played in the matches.
Jon, Nigel, Ben L, Ben C, Kev E, Dave S, Pauline, Jan, Kate & Sally.
.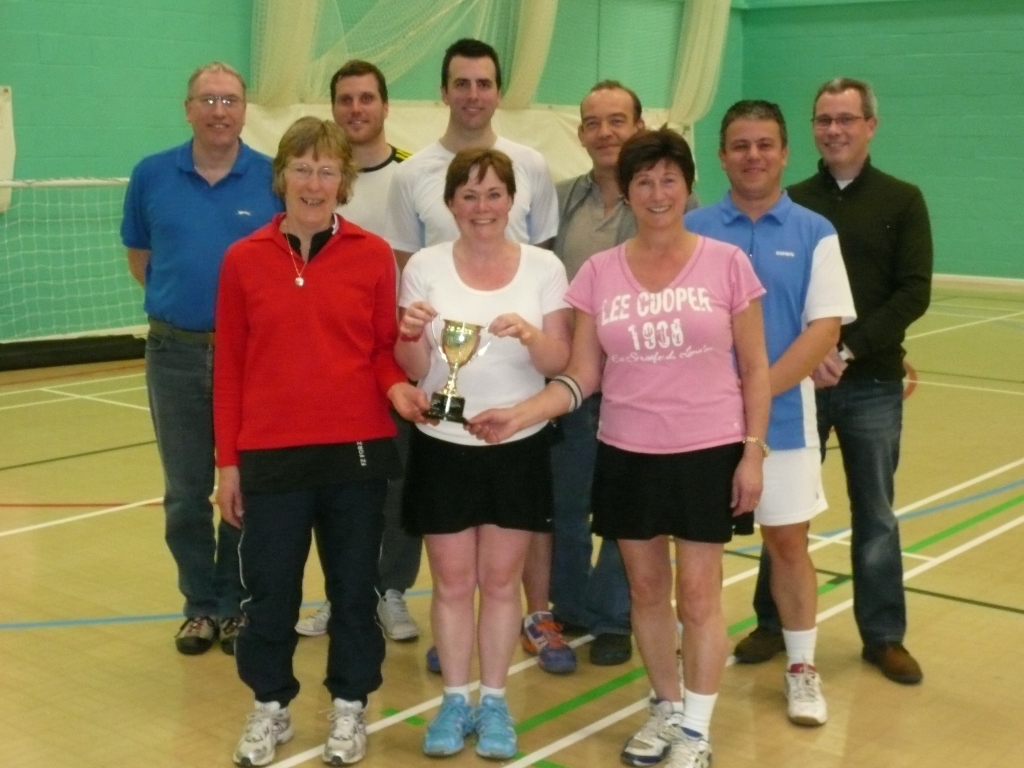 Blackford Cup 2013 - Final, 1st Leg


Spurred on by their away support, the Hurst team won the first leg and go into the second leg 19 points up. Well done to the players and to those who made it along to cheer the team on. The second leg is on the 8th April. It's still all to play for, so let's have some support for the home leg ... and in the pub afterwards of course.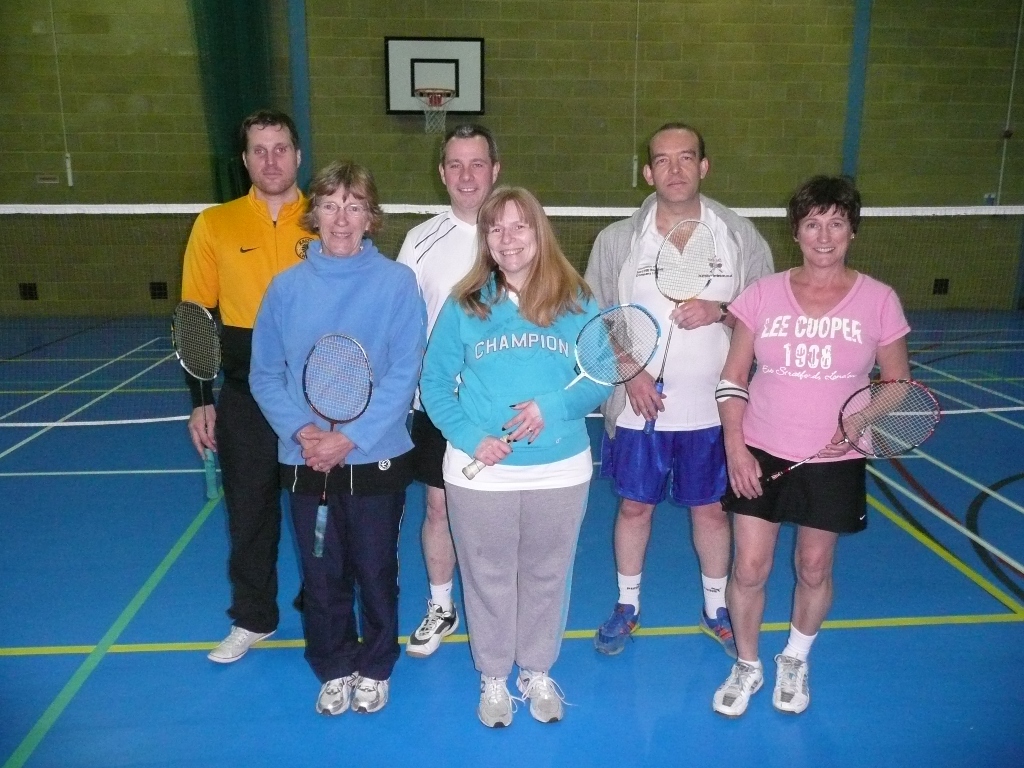 Blackford Cup 2013 - Semi-final Victory


The team played brilliantly in both home & away legs against Aldermaston and won. So we're in the final. What's been particularly good is the number of Hurst club members that have played in this year's tournament, making it a real team effort. Thanks to the Aldermaston team for a close and sporting semi-final match at their hall. The final against Bucklebury will be played over two legs on 26 March (away) and on 8th April (home).
Pauline wins English Masters Championship Title
Hurst Centre Badminton Club member Pauline featured in the February issue of CourtSide magazine. At the 18th English Masters Championship, Pauline and her partner Betty Bartlett [pictured below] beat the 2011 champions to win the women's doubles title. Commenting on the picture, Pauline said "what people don't know is that that picture was taken from a game we actually lost". Don't worry Pauline, your secret is safe with us. Congratulations on your win from all at the Hurst.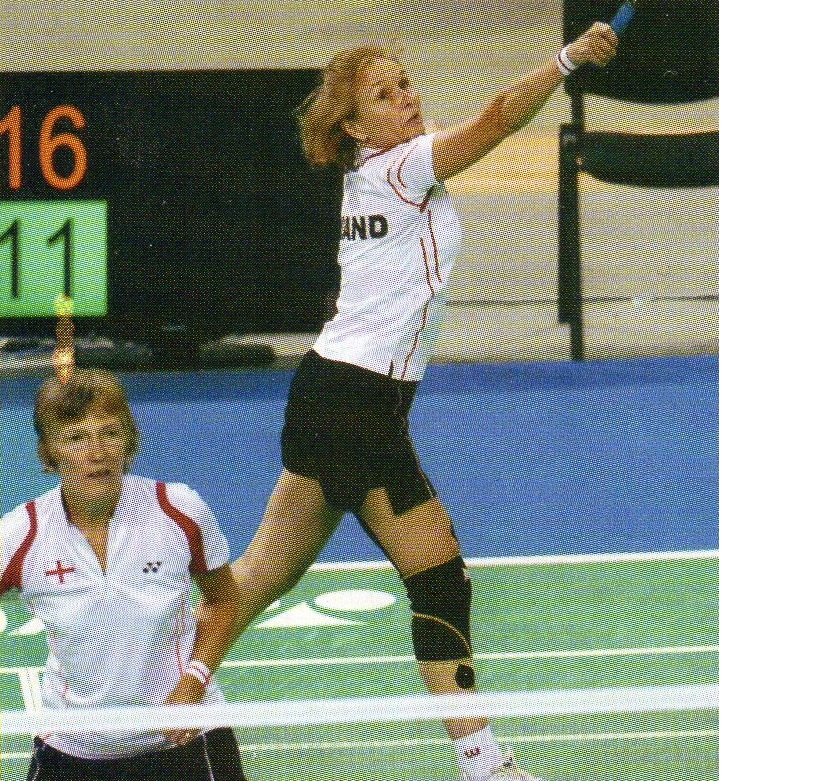 Match Secretaries Report 14 December 2012

With the Hurst hall closure meaning no home games until middle of November the first half of the 2012/13 season was always going to be challenging, add in the worst run of Injuries and sickness that I can remember all teams were in trouble from the start.
Despite all this the teams have mostly done exceptionally well and 2 hurst teams are sitting as clear leaders of their divisions.
In Newbury Mens Division 2 Hurst have won 5 out of 5 including 2 memorable victories against St Marys B. In the away leg and missing Mark Payne Hurst showed great fighting spirit to win 5-4 having been 4-2 down going into the last 3 games. At Home Mark Payne and Stephen Lambe won all 3 to secure a 5-4 win, the crucial points were from the tight 3 end games of Mark Payne and Stephen Lambe vs Tony Glinos and Matt Bennian (pair 1 vs pair 1) and an Injured Dave Ord playing with Kevin Simpson against St Marys 3rd pair.
The Mixed team are leading division 3 having played 3 and won 3 all by healthy margins. Colin Cresswell performed well partnering Katie Appleton for the first time against Kennet C.
In the Blackford cup Hurst are through to the Semi Finals setting up another finals encounter against Aldermaston. This scheduled for 28th January (Hurst) and 1st February (Aldermaston.) To get this far the Hurst Team dispatched Newbury by 18 points followed by Downlands by 70 points. Jon Spragg and new member Pauline Davis returned excellent singles results to set Hurst on the victory path.
In Basingstoke Division 1 Hurst are sat second from bottom after 5 tough injury hit games on the road. A recent 6-3 win against Pegasus B has left Hurst only 6 points away from 6th place.
All is not lost and with 3 to 4 weeks for everyone to recover and 6 out of our 7 games left to be played at home we are confident of avoiding relegation going into the 2nd half of the season.
Pre-season special coverage of the Olympic Badminton...

Where's Wally x 2?
(Denmark 2 South Korea 1)


Did anyone see the Olympic mens' semi final match. What a contest. Here's a picture of an impressive behind the back defence shot from Mogenson of Denmark. But there are two members of the Hurst club in the scene. Can you find them? Where's Wally - times two? Click the picture for a larger image.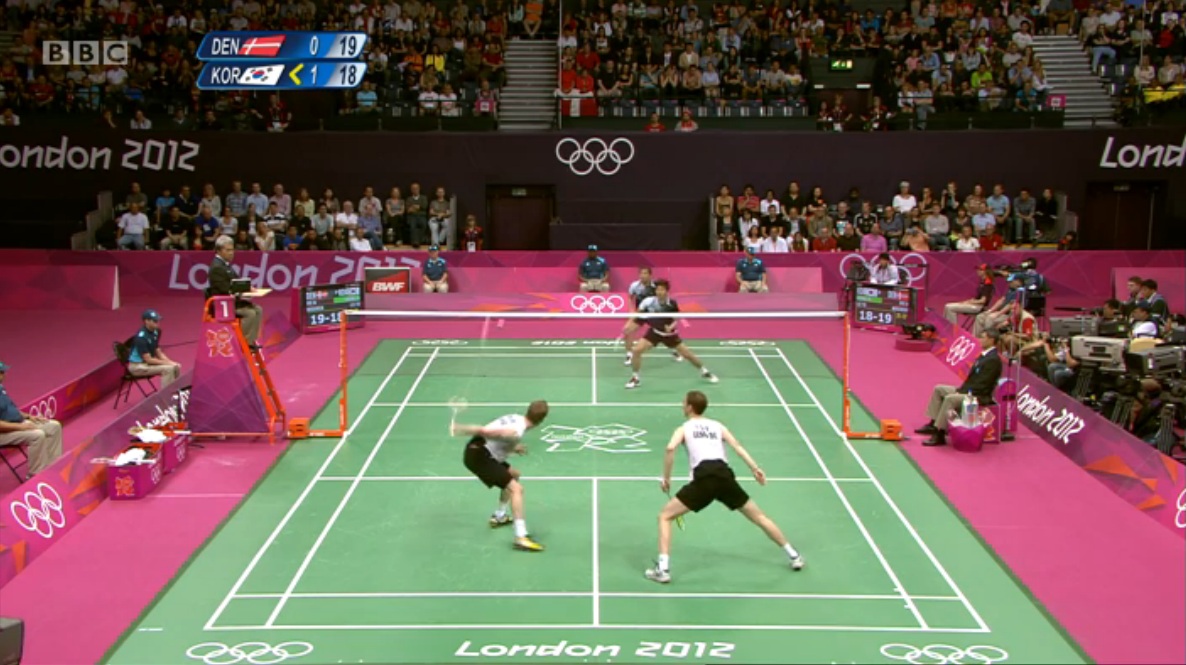 For the answer
click here
. Take a look at the tense moment before a serve and see who's peeking from behind the players.